Invite More Light! Glass Door Options and Trade-Offs
Your front door provides an opportunity to express your individuality and maximize curb appeal. For lovers of natural light, few choices are better than a front door with enough glass to brighten a home's entryway. What considerations will help you make the best choice? 
1. Style and Function
Door manufacturers offer a wide range of styles to satisfy buyers' preferences and budget constraints. Whether you want a small panel that lets you see if packages have been delivered or a full pane of glass that makes a dramatic statement, you're sure to find something that suits your needs.  
Glass doors offer more than curb appeal. Additional natural light can help lift your mood! 
Depending on your home's positioning, you may be able to improve your views with a glass front door. Plus, bringing in more sunshine can reduce the expense of powering electric lighting in your home.
If you don't want glass in your front door, sidelights and transoms with glass panes provide another way to brighten an entry!
2. Security
Even though glass doors offer many benefits, there are also some downsides. One issue is security. Glass doors aren't as sturdy as a solid wood or metal door, but there are ways to reduce risks. 
One option is to add a shatterproof film. This will slow down would-be burglars and protect the glass in your door from flying debris and other hazards. Some films also include UV protection for carpets and furniture and to reduce heat buildup. 
Wrought iron offers another option for improving a glass door's security while enhancing its decorative features.
A security system with glass break sensors will sound an alarm if any glass in the house is broken.
Even if you don't have a full security system, consider adding a "Protected by" sticker to your glass door. Most burglars would prefer playing the odds and preying on properties without any protection or warning stickers.
3. Privacy
Depending on your home's layout and your lifestyle, you may not be concerned about concealing yourself and your home's interior. Regardless, there are many ways to add light while maintaining privacy for every budget.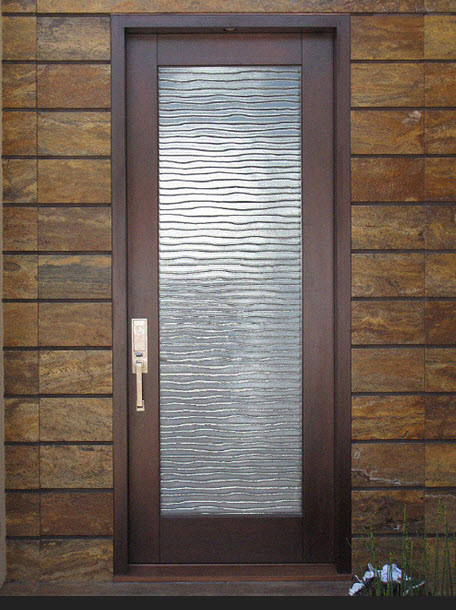 Perhaps the most beautiful but expensive way to obscure views is with textured glass. It's offered in allover patterns, leaded crystal, and stained glass.  
Typically, textured panels are sandwiched between two transparent layers for protection, better security, and easy cleaning.
Etching is another decorative technique that can be applied across an entire glass pane or used to create patterns, shapes, and custom designs.
New smart glass options let you toggle between the look of etched glass and transparent glass with the flip of a switch or a voice-activated command. Smart glass is available in both prefabricated panels or adhesive films. For residential examples, see Glass Apps, Smart Glass Country, or Smart Tint.
Are you looking for easy, budget-friendly privacy options? 
Investigate contact paper. The film adheres directly and can approximate the look of etched, patterned, or stained glass.
Sheer curtains are another budget-friendly alternative. They can be mounted flush with your door(s) or hung above, where they can be open or closed, depending on your preference for light or privacy.
Whether you're working with existing glass entryway or considering replacing your current door with a light-loving option, consider style, function, security, and privacy before making a decision.
Whatever you choose, your entry door will make a great first impression!