How to Prepare and Create a Budget-Friendly Raised Bed Garden
With spring's arrival, many gardeners (and wannabes) are eager to get outside and start growing a fresh crop of backyard salad greens, vegetables, herbs, and fruits. Raised garden beds offer one of the best ways to grow your food, and they're a doable DIY project for most homeowners.
There are several reasons people prefer raised beds over in-ground gardening, including:
It's a quick and easy way to grow more plants by improving the quality and drainage of your garden soil.
 
Raised beds usually usually easier to maintain and put less stress on your body since the plants are elevated and accessible from both sides.
 
There are many attractive ways to create raised beds, giving homeowners many opportunities to enhance their backyard landscape. 
 
PREPARING RAISED GARDEN BEDS
Whether you're building raised beds from scratch or purchasing large containers, here are six pointers to keep in mind:
1. Location 
Most vegetables, herbs, and fruit need at least six hours of direct sunlight during the growing season, so keep this in mind when deciding where to place raised beds. If possible, position them close to the house so it's easier to maintain them and harvest what you grow.
2. Dimensions 
One rule of thumb is to limit the width to four feet or less so plants (and weeds) are within arm's reach from one side or the other. However, raised beds can be any length. Some gardeners prefer keeping them shorter so there are fewer steps to reach the other side.
3. Depth 
For the best results, raised beds must be deep enough to give plants' root system space to grow. On average, 20 inches is adequate. However, if your bed is only 10 inches tall, you can still have good results if you dig and amend the soil below the raised bed, which is called double digging. 
4. Soil 
Plants perform best in high-quality soil, and one of the best things about raised beds is that it's relatively easy to control the growing medium. Many gardeners prefer starting with clean, lightweight topsoil (over 50% of the mixture) and adding composted forest materials (30-35%) and composted manure (10-15%). 
5. Drainage 
A premium growing medium will drain well, but it's essential to consider what happens when water reaches the lowest part of your beds. Containers with solid bottoms need drainage holes. And if your raised bed only has walls, ensure water can drain into the surface below. 
6. Mulch 
Raised beds often dry out faster than in-ground gardens. Once your plants are established, adding a layer of mulch over the soil will help keep the soil moist.
RAISED GARDEN BED OPTIONS
There are countless ways to add raised garden beds to your yard, particularly if you're willing to build them yourself. Here are several frequently-used options.
Wood
Most gardeners opt for raised beds made of wood because it's easy to find materials. However, wood deteriorates faster than other options, so a weather- and rot-resistant variety like cedar or cypress is preferable. 
It's also okay to use pressure-treated lumber, as long as it was treated after 2003. That's when the EPA banned the sale of pressure-treated wood containing chromatid copper arsenate (CCA), an inorganic arsenic.
Corrugated metal framed with wood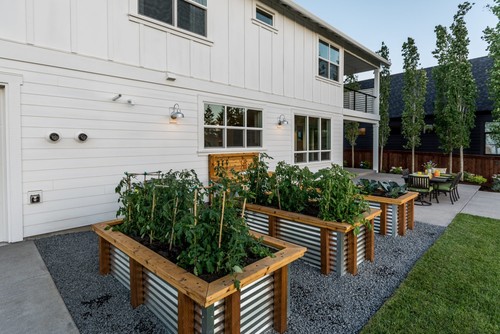 This popular raised bed style gives a garden a contemporary, industrial vibe, plus corrugated steel is durable. Just be sure to reinforce light-gauge metal sheets with plywood.
Concrete or cinder blocks
Raised beds made of manufactured blocks will last much longer than wood, and concrete is non-toxic and safe for garden use. Today's cinder blocks are made from cement and other aggregates. But avoid salvaging old cinder blocks produced over 50 years ago since they may contain arsenic, lead, and mercury.
Large containers are another alternative that doesn't require building skills, but you may need to recruit a friend with a pick-up truck to move your soon-to-be garden to your home!
Metal troughs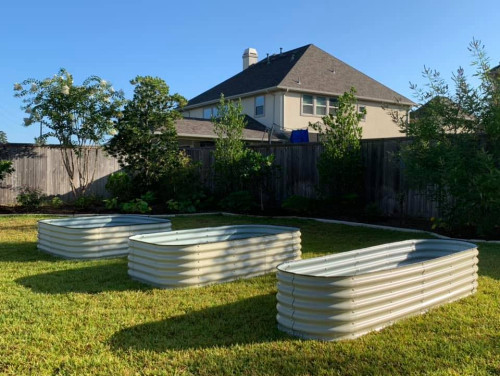 New and used feeding and watering troughs for livestock combine modern farmhouse and industrial styles with no assembly required.
BONUS TIP
Adding a simple polytunnel over your raised beds can extend your growing season into the early-spring and late-fall months. Once the weather warms up, remove the plastic sheet and replace it with netting to protect your garden from critters eager to nibble away at your plants!