5 Budget-Friendly Ways to Create a Home Bar
Winter temperatures can make staying home and snuggling by a fireplace more appealing than meeting friends at a local gathering spot. But how about bringing the bar into your home? Dedicating an area for serving drinks can inject a fun element to your decor and make entertaining more enjoyable. 
Plus, a home bar doesn't have to be expensive, especially if you don't need a sink and stick with a dry bar. Here are five ways to add a bar to your home that don't require hiring a plumber.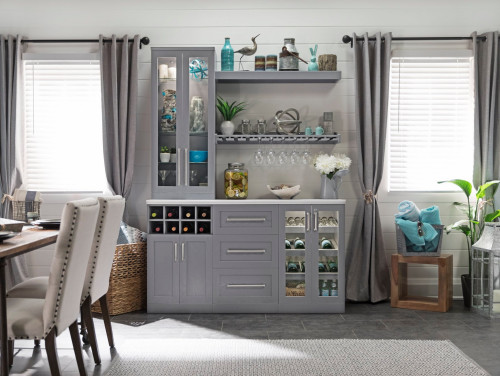 1. Claim wall space.
You can create a built-in bar by mounting prefabricated cabinets, a countertop, and open shelving along several feet of underutilized wall space. Consider adding lighting, a mini refrigerator, or a wine cooler if there's a power source nearby.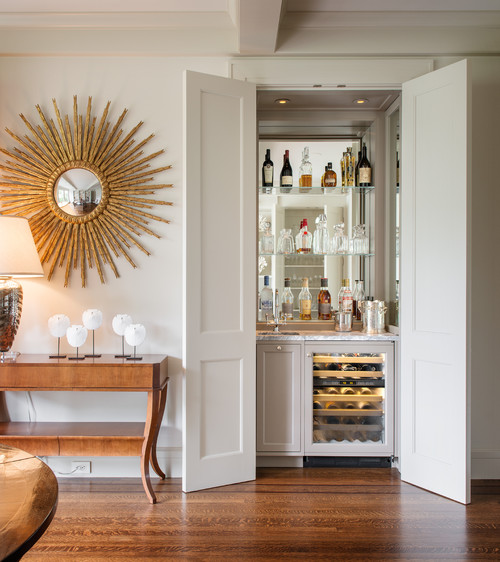 2. Convert a closet.
Another way to create a built-in bar is to steal space from an existing closet or a room behind a wall. Floating glass shelves mounted over a mirror can help the space appear larger and brighter. Add doors, too, if you prefer hiding your bar when it's not in use.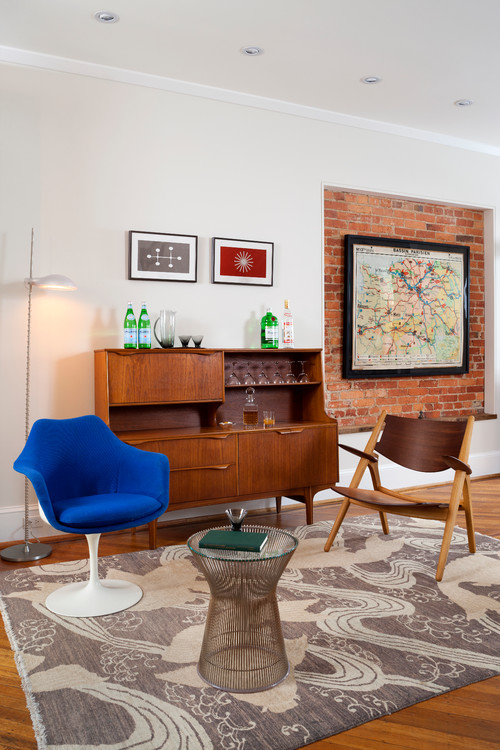 3. Refashion furniture.
Find a large piece of furniture that can be repurposed into a home bar, such as a sideboard, an armoire, a cupboard, or a self-assembly storage piece with shelves and doors. Display (or hide) your barware and bottles, and add a decorative tray to protect furniture surfaces from spills.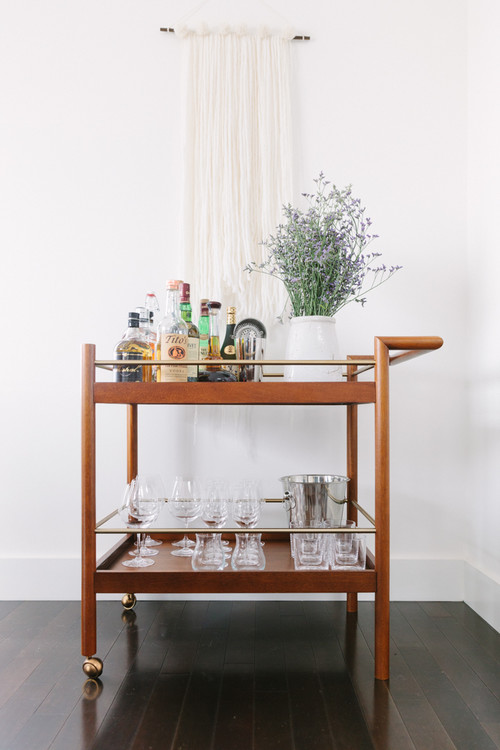 4. Purchase a rolling cart.
A cart is an excellent choice if you want your bar to consume as little space as possible and prefer the flexibility of repositioning it or storing it when not in use. Change your drink options and glassware to suit your gathering, and roll the cart onto a deck or patio when temperatures rise and entertaining shifts outdoors. 
5. More ideas for hosting at home.
Maybe you prefer a short-term drinks station on your counter or table for visiting guests instead of a dedicated home bar. These tips can help make any bar shine:
You can set up a temporary bar anywhere, but an island or a peninsula in your kitchen is a natural gathering spot to arrange beverage supplies and glasses. And if your island includes bar stools, better yet!
 
Use a large tray to attractively organize all your bar accessories, such as a bottle opener, corkscrew, jigger, mixing spoons, straws, lemon and lime wedges, napkins, etc. That way, it's easy to relocate your makeshift bar if you need to set out food later in the same spot.
   
Ice up! Be sure to have extra ice on hand for drinks. Spare yourself a trip to buy bagged ice and start filling and emptying ice cube trays into one or more large plastic bags several days in advance. Use the cubes to refill an ice bucket as needed.
 
Plan a beverage strategy. Offer at least two alcoholic options (such as margaritas and craft beer), and have enough suitable glasses to serve everyone. And remember to include at least two non-alcoholic options, too.