How to Add the Perfect Fire Pit to Your Yard
It's hard to top evenings around a campfire—crackling flames, crickets chirping, and gatherings of good friends—or quiet times for personal reflection.
Fires are alluring and primal. But if you're craving a fire pit in your yard, it's essential to consider how to tackle your project. Take these steps to make sure your fire pit is a perfect fit.
Step 1. Research restrictions.
Before buying or building a fire pit, ensure your project won't spark any problems with municipal authorities or your homeowners' association. Rules and regulations may prohibit fire pits or limit the type of pit, where it's placed, and how it's used.
For example, portable fire pits may need to be positioned on a fire-resistance surface like a concrete or gravel patio.
Regardless of restrictions, it's always advisable to position a fire pit at least 20 feet from combustible materials like a wood deck, a shed, or low-hanging tree branches.
Additionally, if you plan to trench in your fire pit, ask the local utilities to mark the location of their services before you dig.
Step 2. Portable or permanent?
Sometimes, the fastest and easiest way to create a campfire is to invest in a portable steel or iron fire pit. You'll find various styles and prices, with and without lids. Typically, pits made of thicker metal last longer.
If you prefer the appearance of landscaping stone or bricks, you may want to buy a kit from one of the big box stores or other retailers. Kits often include a metal liner, which helps align the stones during assembly and adds structural integrity for many years.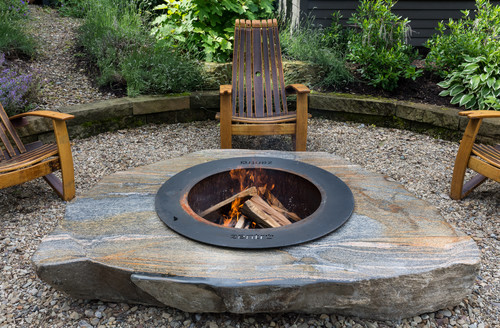 Of course, fire pits can also be constructed from scratch using whatever combination of stones, bricks, and other non-combustible materials you prefer.
Step 3. Design considerations.
Before buying a fire pit or the materials to make one, consider how you'll want to use it and how it will integrate into the rest of your landscaping.
For example, how many chairs will you want to arrange around your fire? This depends on the size of your yard and the size of the gatherings you hope to host. Make sure the pit is large enough to suit your needs and that you have enough seating space.
What shape will work best? Round fire pits are most common but don't feel confined to that. A square, rectangle, oval, or irregularly shaped pit may be ideal.
Is it critical to include a ledge for setting food, drinks, or propping up feet?
If you're using stones, will they be dry stacked or mortared together? Do you want to add openings at the bottom of the pit to improve airflow into your fire, making it easier to stoke its flames?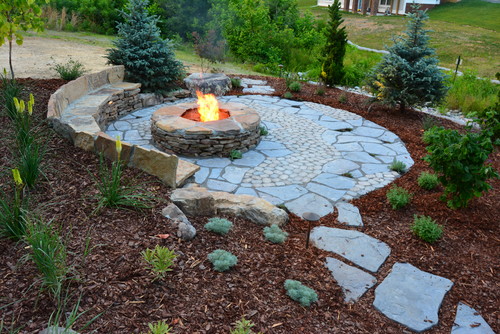 Step 4. Future plans.
Perhaps your fire pit is part of a larger landscaping design, and you intend to add additional hardscaping elements later, including a patio, benches or a table, an outdoor kitchen, or other features.
You don't need to do everything immediately! But if your first step is a fire pit, try to determine how it will integrate with other future elements so you can enjoy campfires sooner—and be happier with the final results later.